FITNESS RANGE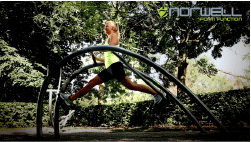 Today we are all very aware of the positive effect physical activity has on our body and quality of life. But often the time and opportunities do not follow the good intentions  when it comes to working out and training.
We believe that the opportunity for fitness should be accessible and available at all hours, be free for everyone and be found outside in the fresh air. Based on that, Norwell fitness series have designed and developed a series of outdoor fitness equipment stations to be used everywhere, all year long!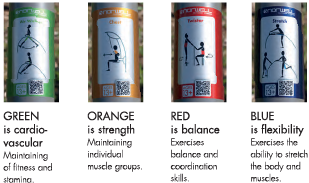 DESIGN FOR ALL: The Norwell fitness equipment series are for everyone – From the out of shape beginners to the very fit. They will be comfortable and gain maximum benefits from our unique and stylish designs.
THE FOUR ESSENTIALS:  The conditions necessary for a high quality of life can be listed as four essentials: Optimum cardiovascular functions, good body strength, fine balance and coordination skills and a sufficient flexibility.
We have made it easier to navigate through out one of our fitness supplied parks by making the stations with coloured IP bands, showing which essential area in particular is covered.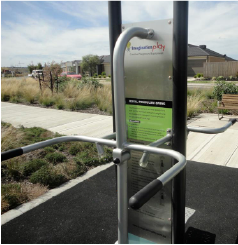 The Royal Fitness Equipment series features an elegant colour scheme and premium instructional signage to help stand out from the crowd. Smooth rounded support poles provides a premium finish and reduces injury. All plastics are UV stabilized and heavy duty suited for all locations.
Stainless steel security fixings protected by anti-vandal caps with weather resistant aluminum instruction signage with 3M anti-graffiti vandal film protection.
125mm steel or aluminium round powder coated posts with alloy caps. Optional slab mount feet.
Don't forget to check out our Hybrid series below to mix and match different fitness equipment apparatuses on each station.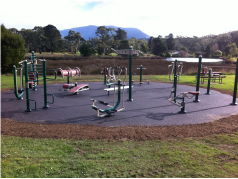 The standard fitness equipment series are a simple, robust system yet affordable way of supplying outdoor gym equipment in your communities.
Various range of colour choices and easy to use installation manuals are available upon request.
For large projects needing bulk equipment on a tight budget the Standard fitness series is an ideal choice for your community.
Don't forget to ask us about under surfacing. Outdoor Fitness Australia can also supply and install various surfacing from mulch to rubber soft fall tiles and rubber wet pour at a competitive rate!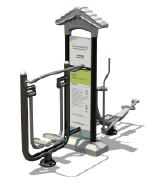 Hybrid fitness equipment series offer value for money by fusing two types of exercises into one machine. This means you get double the Fitness activity in half the space!
Similar to our Royal Fitness series with the ability to mix and match different machines onto the one station using space and saving money for those projects on a tight budget but wanting more of a premium range.
Don't forget, both the Royal Fitness series and Hybrid series have the optional plastic moulded roof and both series come with aluminum instructional signage with 3M anti-graffti film coating to avoid vandalism.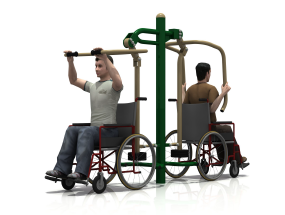 Our Universal fitness equipment is an inclusive series comprising of features for all abilities. Robust and stylish designs engineered to suit all users.
A perfect addition to your fitness area accommodating everyone!